PENDAMPINGAN MENINGKATKAN MUTU MANAJEMEN PAUD BINAAN
Yecha Febrieanitha Putri

UIN Raden Fatah Palembang, Indonesia

Indah Dwi Sartika

UIN Raden Fatah Palembang, Indonesia

Fahmi Fahmi

UIN Raden Fatah Palembang, Indonesia
Keywords:
Quality Management, PAUD Management, Participatory Action Research
Abstract
The research aimed to find out whether the quality of PAUD management assistance could improve. Research-based service was carried out at RA Perwanida 3 and PAUD Kaisah. This study used the Participatory Action Research (PAR) model of the Kemmis, S. & McTaggart , R. Research methodology which was carried out in a series through online material delivery assistance and direct mentoring to each PAUD unit. The implementation of the activity is carried out in 5 steps, namely diagnosis, making an action plan, taking action, evaluating and reflecting. Data analysis using data analysis quantitative data analysis and qualitative data analysis. Quantitative data analysis was obtained from the description of the value of document completeness, pre and post mentoring. While the qualitative data analysis was obtained from field notes, documentation notes and interview notes using four parts, namely data reduction, display data and conclusion data. The results of the dedication research with assistance to improve the quality of the assisted PAUD management, the average document data obtained from each of the assisted institutions has increased by 37%, which is based on 30 assessment indicators, 26 indicators have been successfully fulfilled by each of the assisted PAUD institutions so that initially the average file completeness was 49% after being given assistance to 86%.
Downloads
Download data is not yet available.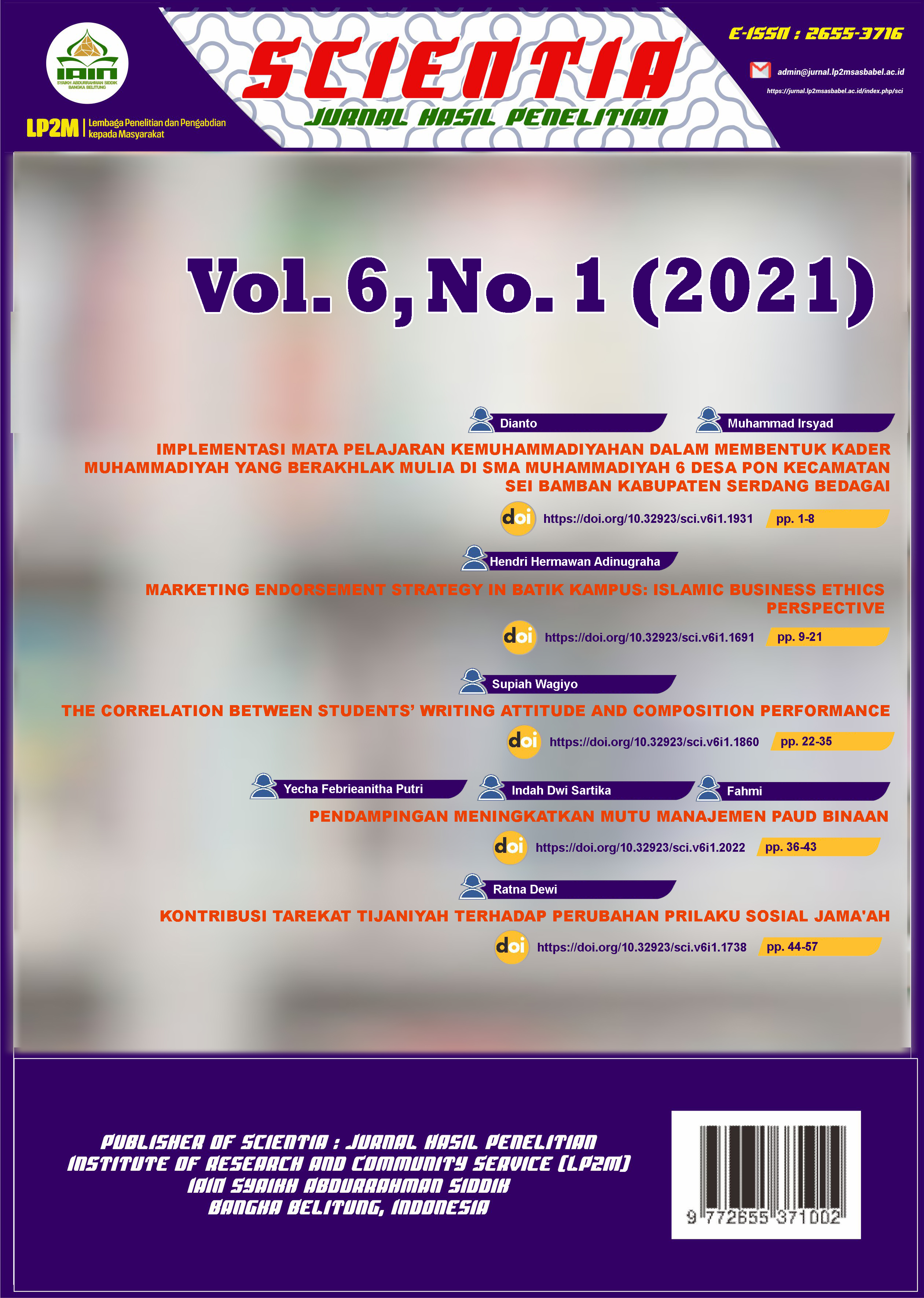 How to Cite
Febrieanitha Putri, Y., Sartika, I., & Fahmi, F. (2021). PENDAMPINGAN MENINGKATKAN MUTU MANAJEMEN PAUD BINAAN. Scientia: Jurnal Hasil Penelitian, 6(1), 36-43. https://doi.org/10.32923/sci.v6i1.2022
Copyright (c) 2021 Yecha Febrieanitha Putri, Indah Dwi Sartika, Fahmi Fahmi
This work is licensed under a Creative Commons Attribution 4.0 International License.
Authors who publish journals in Scientia: Jurnal Hasil Penelitian agrees with the following conditions:
1. Authors retain copyright and grant the journal right of first publication with the work simultaneously licensed under a Creative Commons Attribution 4.0 International License.
2. Authors are able to enter into separate, additional contractual arrangements for the non-exclusive distribution of the journal's published version of the work (e.g., post it to an institutional repository or publish it in a book), with an acknowledgement of its initial publication in this journal.
3. Every publication (printed/electronic) are open access for educational purposes, research, and library. Other than the aims mentioned above, the editorial board is not responsible for copyright violation.