IMPLEMENTASI MATA PELAJARAN KEMUHAMMADIYAHAN DALAM MEMBENTUK KADER MUHAMMADIYAH YANG BERAKHLAK MULIA DI SMA MUHAMMADIYAH 6 DESA PON KECAMATAN SEI BAMBAN KABUPATEN SERDANG BEDAGAI
Dianto Dianto

Universitas Muhammadiyah Sumatera Utara, Indonesia

Muhammad Irsyad

Universitas Muhammadiyah Sumatera Utara, Indonesia
Keywords:
Implementation, Kemuhammadiyah Subjects, Student Morals
Abstract
This study examines the problems in the Implementation of Muhammadiyah Subjects in Forming Muhammadiyah Cadres with Noble Morals at Muhammadiyah 6 High School, Pon Village, Sei Bamban District, Serdang Bedag Regency. The phenomenon that appears in the community is that there are still many students who graduate from Muhammadiyah high school who have not been maximized to become Muhammadiyah cadres and have noble qualities in themselves. The purpose of this research is to make students as Muhammadiyah cadres with noble character. Aspects of Kemuhammadiyah learning at SMA 6 Pon Village, Sei Bamban District in the form of Islamic activities such as greeting first when entering class, getting students to pray before learning, then exemplary methods in the aspect of the teacher saying greetings before entering class, the teacher praying before teaching and politely dressed teacher. The researcher used the approach in this research was qualitative with descriptive research type. Data collection with observation and interview techniques. Subjects that will be observed and interviewed are teachers and students. Data processing is carried out with the stages of data analysis, namely reducing data, presenting data and drawing conclusions.
Downloads
Download data is not yet available.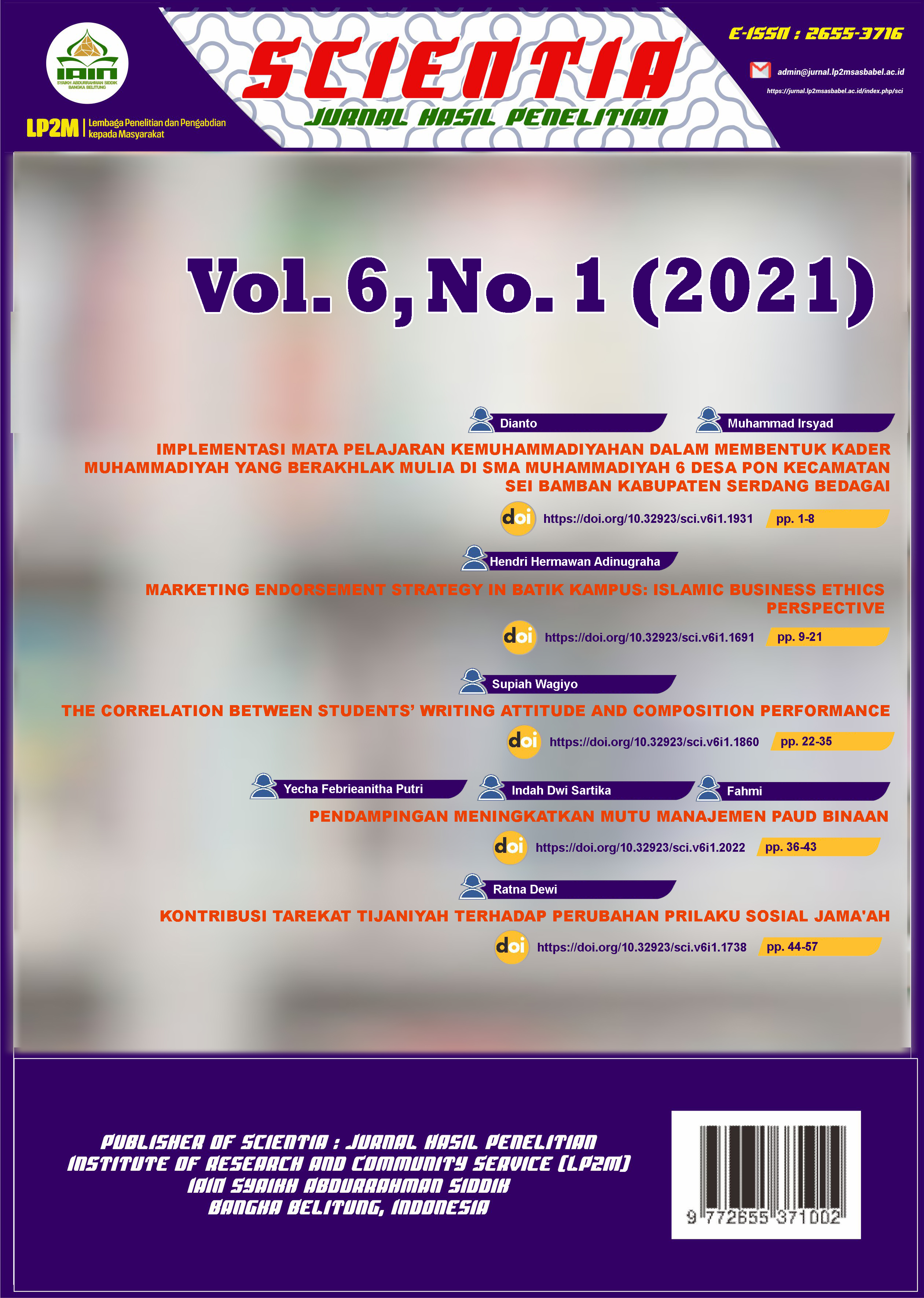 How to Cite
Dianto, D., & Irsyad, M. (2021). IMPLEMENTASI MATA PELAJARAN KEMUHAMMADIYAHAN DALAM MEMBENTUK KADER MUHAMMADIYAH YANG BERAKHLAK MULIA DI SMA MUHAMMADIYAH 6 DESA PON KECAMATAN SEI BAMBAN KABUPATEN SERDANG BEDAGAI. Scientia: Jurnal Hasil Penelitian, 6(1), 1-8. https://doi.org/10.32923/sci.v6i1.1931
Copyright (c) 2021 Dianto, Muhammad Irsyad
This work is licensed under a Creative Commons Attribution 4.0 International License.
Authors who publish journals in Scientia: Jurnal Hasil Penelitian agrees with the following conditions:
1. Authors retain copyright and grant the journal right of first publication with the work simultaneously licensed under a Creative Commons Attribution 4.0 International License.
2. Authors are able to enter into separate, additional contractual arrangements for the non-exclusive distribution of the journal's published version of the work (e.g., post it to an institutional repository or publish it in a book), with an acknowledgement of its initial publication in this journal.
3. Every publication (printed/electronic) are open access for educational purposes, research, and library. Other than the aims mentioned above, the editorial board is not responsible for copyright violation.