MARKETING ENDORSEMENT STRATEGY IN BATIK KAMPUS: ISLAMIC BUSINESS ETHICS PERSPECTIVE
Hendri Hermawan Adinugraha

IAIN Pekalongan, Indonesia
Keywords:
Marketing, Endorsement Strategy, Batik Kampus, Islamic Business Ethics
Abstract
This research aims to describe the problem of endorsement as a marketing strategy for Batik Kampus Online Shop Buaran Pekalongan from the perspective of Islamic business ethics. The approach used in this research is phenomenology. The research location is in Buaran Pekalongan precisely on Jl. Pelita II, No. 54, Jenggot Gang 4. Sources and data collection techniques in this study using semi-structured interviews, participatory observation, and documentation. Internal validity is done using triangulation, emic and member checking. Data analysis using reduction, display and drawing conclusions. The results of this study concluded that the endorsement marketing strategy carried out by Batik Kampus via Instagram and telegram contained two types of endosers, namely testimonials and celebrity appeal. Endorsement as a Kampus Batik marketing strategy in terms of Islamic Business Ethics as a whole on social media. The products that Batik Kampus promote are not exaggerating and in accordance with Islamic Sharia principles. Products that are traded include products that are polite and cover the body. The use of endorsement as a marketing strategy by Batik Kampus has had a significant positive impact as evidencing by the increased sales turnover and the increase in admins who help him in online business in the market place and proven by the assets owned by Moh. Abdul Ghoni. Kampus Batik services are very fast, friendly and accept dropshipping or packaging which can make it easier for buyers to buy and resell Batik Kampus products to consumers directly.
Downloads
Download data is not yet available.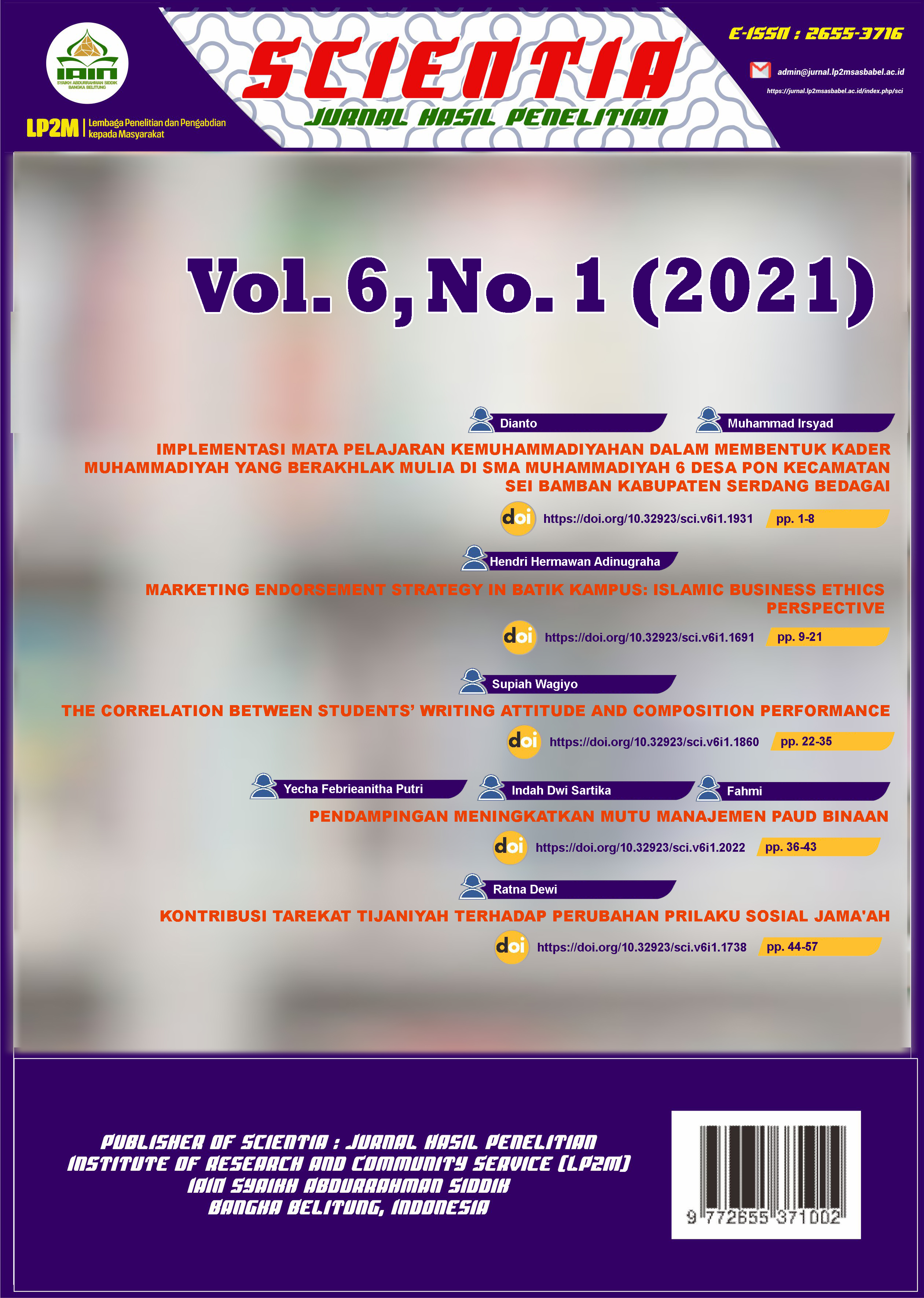 How to Cite
Adinugraha, H. (2021). MARKETING ENDORSEMENT STRATEGY IN BATIK KAMPUS: ISLAMIC BUSINESS ETHICS PERSPECTIVE. Scientia: Jurnal Hasil Penelitian, 6(1), 9-21. https://doi.org/10.32923/sci.v6i1.1691
Copyright (c) 2021 Hendri Hermawan Adinugraha
This work is licensed under a Creative Commons Attribution 4.0 International License.
Authors who publish journals in Scientia: Jurnal Hasil Penelitian agrees with the following conditions:
1. Authors retain copyright and grant the journal right of first publication with the work simultaneously licensed under a Creative Commons Attribution 4.0 International License.
2. Authors are able to enter into separate, additional contractual arrangements for the non-exclusive distribution of the journal's published version of the work (e.g., post it to an institutional repository or publish it in a book), with an acknowledgement of its initial publication in this journal.
3. Every publication (printed/electronic) are open access for educational purposes, research, and library. Other than the aims mentioned above, the editorial board is not responsible for copyright violation.