FATHERHOOD OF JAVANESE LOW-MIDDLE CLASS
M. Wahib Sahie

IAIN Ternate, Indonesia
Keywords:
narrative identity, fatherhood, Javanese man, low-middle class
Abstract
This study aims to explore the masculine identity of the fatherhood of Javanese men and to understand its psychological dynamics through 'the experience of being a father'. Therefore, the researcher applied hermeneutic-phenomenology study that which is digging beneath the configuration inside and also construct the gender structure. Also, in this study the subject of researchers came from Java residing in Jomblang Karang Bendo and in this study are those who are in the category of low-middle class. The findings in this study explain that fatherhood is constructed through discourse which is a requirement of the engendered fatherhood. Furthermore, fatherhood is a figure needed in the family (wife and children).
Downloads
Download data is not yet available.
References
Auslander, L. (1997). Do Women's Feminist Men's Lesbian and Gay Queer Studies, Gender Studies? Differences: A Journal of Feminist Cultural Studies, 9 (3).
Beitel, A.H and Parke, R.D. (1998). Involvement in infancy: The role of maternal and paternal atitudes. Journal of Family Psychology, 12 (2), 268-288.
Brod, Harry (ed), (1987). "Tha Making of Masculinities, The New Men's Studies", Boston: Allen & Unwin.
Burgess, A (1997). Fatherhood Reclaimed: The Making of the Modern Father. London: Vermilion.
Coles, T (2009). Negatiating the field of Mascukulity: The production and reproduction of multiple dominant Masculinity: Journal Men and Masculinity 12 (1).
Coltrane, S, and Parke. Ross D. (1998). Reinventing Fatherhood: Toward an Historical Understanding of Continuity and Change in men's Family Lives. Philadelphia, PA: National Center on Fathers and Families.
Connell, R (2009). Gender in World Perspective. 2nd Edition. Cambridge: Polity.
Connell, R. (2005). Masculinities. 2nd Edition. Cambridge: Polity.
Connell, RW (1995). Masculinity. Cambridge: Polity Press.
Coverman, S (1985). Explaining husbands' participation in domestic labor. Journal Sociology Quarterly, 26, 81-97.
Deutsch, F.M., Lussier, J.B., & Servis, L.J. (1993). Husbands at home: Predictors of paternal partisipation in childcare and housework. Journal of Personality and Social Psychology, 65.
Dolan, A (2011). "I"ve Learnt What a Dad Shoul Do: The Interaction of Masculinity and Fathering Indentitas Among Men Who Attended a 'Dads Only' Parenting Programme. SAGE. Journal Sociologi. University of Wawick.
Featherstone, B (2009). Contemporary Fathering. Theory, Policy and Practice. Bristol: Polity Press.
Flood, M. (2002). Between Men and Masculinities: An Assessment of the Term "Masculinity" in Recent Scholarship on Men, dalam Pearce, S. & Muller, V. (eds). Manning the Next Millennium: Studies in Masculinities. Bentley: Black Swan Press.
Frost, N. (2011). Qualitative Research Methods in Psychology: Combining Core Approach. New York: McGraw-Hill.
Gadamer, H.G. (2004). Truth and Method. Second, Revised Edition. Terjemahan: Wheinsheimer, J. & Marshall, D.G. London: Continuum.
Gregory, A and Milner, S (2011). What is "new" Abaut Fatherhood. Men and Masculinity. Journal University Of BATH.
Hasyim, N, Kurniawan P, Aditya dan Nur Hayati, E. (2011). Menjadi Laki-Laki (Pandangan laki-laki jawa tentang maskulinitas dan kekerasan dalam rumah tangga). Penerbit Rifka Annisa. Yogyakarta.
Haywood, Chris, and Máirtín Mac an Ghaill. (2003). Men and Masculinities: Theory, Research and Social Practice. Buckingham: Open University Press.
Hobson, B (2002). Introduction. In Making men into fathers. Men, Masculinity and the social politics of fatherhood, 1-21, eds B. Hobson and D. Martin. Camridge: Cambridge University Press.
Howson, R. (2006). Challenging Hegemonic Masculinity. London: Routledge.
Husserl, E. (1967). Cartesian Meditations: An Introduction to Phenomenology. Terjemahan: Cairns, D. The Hague: Martinus Nijhoff Publisher.
Ibung, D. (2009). Mengembangkan Nilai Moral Pada Anak. Penerbit Alax Media Komputindo. Jakarta.
Jenkins, R. (2002). Pierre Bourdieu. London: Routledge.
Kimmel, M. & Messner, M. (2007). "Introduction" dalam Men's Lives. 7th edition. Boston: Allyn and Bacon.
Kimmel, M. S. (2011). The Gendered Society. 3rd Edition. Oxford: Oxford University Press.
Krais, B (2006). Gender, Sociological Theory and Bourdieu's Sociology of Practice. Theory, Culture & Society 23(6).
Lamb, ME (ed). (1997). The Role of the Father in Child Development. Edition. Chichester: Wiley.
Langdridge, D. (2007). Phenomenological Psychology: Theory, Research and Method. Harlow: Pearson Prentice Hall.
LaRossa, R (1988). The Modernization of Fatherhood: A Social and Political History. Chicago: University of Chicago Press.
Marsiglio, W and Cohan Mark. (2000). Contextualizing Father Involvement and Paternal Influence. Journal Marriage & Family Review 29(2–3).
Miller, Tina. (2011). Making Sense of Fatherhood, Gender, Caring and Work. Cambridge University Press. New York.
Muzir, Ridwan Inyiak. (2016). Hermeneutika Filosofis Hans-Georg Gadamer. Penerbit AR-RUZZ MEDIA. Yogyakarta.
Poerwandari, E.K. (2013). Pendekatan Kualitatif untuk Penelitian Perilaku Manusia. Cetakan kelima. Jakarta: LPSP3 UI.
Ricoeur, P. (1981). Hermeneutics and the Human Sciences. Terjemahan: Thompson, J.B. Cambridge: Cambridge University Press.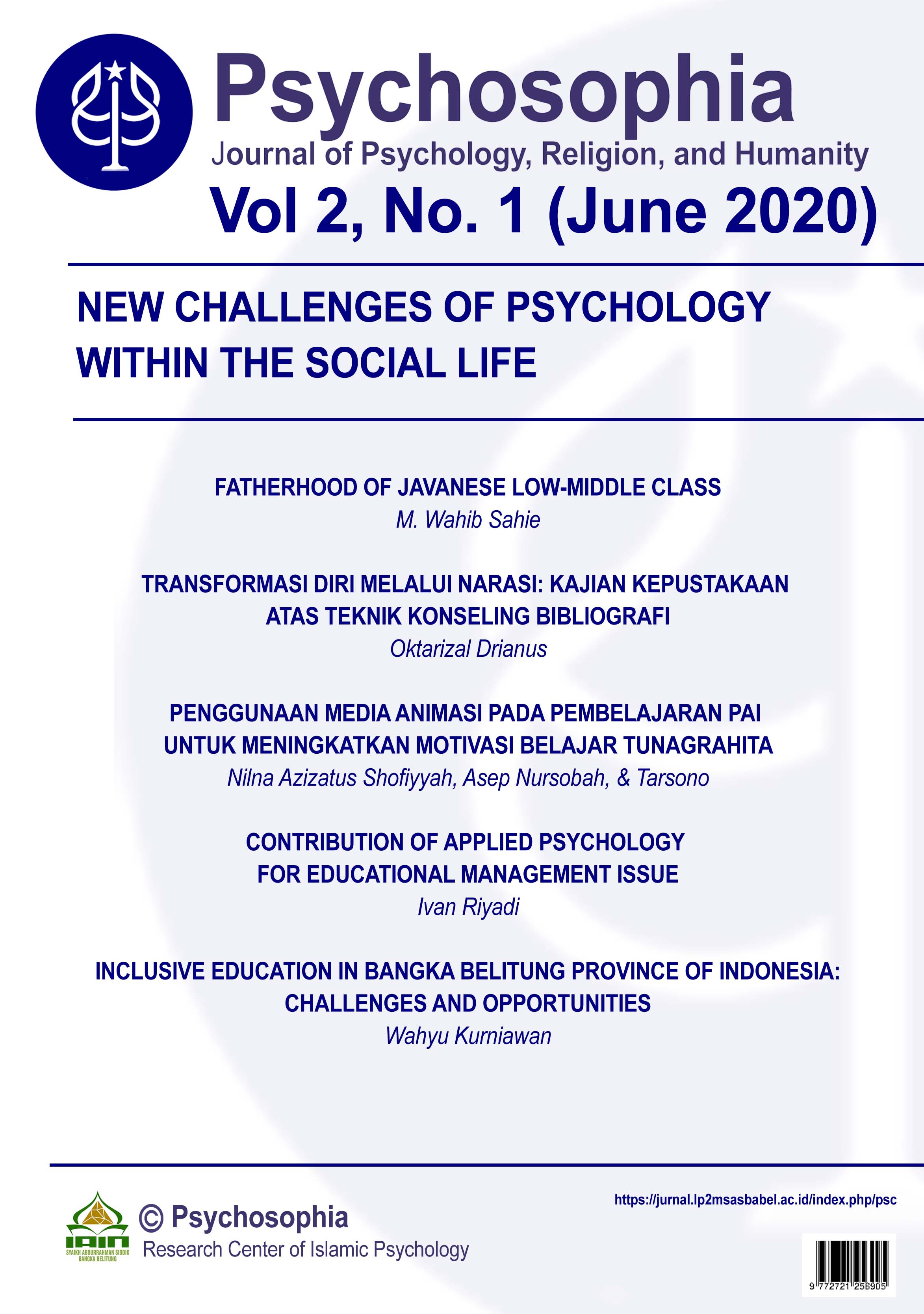 How to Cite
Sahie, M. (2020). FATHERHOOD OF JAVANESE LOW-MIDDLE CLASS. Psychosophia: Journal of Psychology, Religion, and Humanity, 1(2), 82-98. https://doi.org/10.32923/psc.v1i2.884
Section
Psychological Research
Copyright Notice
Psychosophia: Journal of Psychology, Religion, and Humanity is committed to real and immediate open access for academic work. All of the Psychosophia's articles and reviews are free to access immediately from the date of publication. There are no author charges prior to publication, and no charge for any reader to download articles and reviews for their own scholarly use. The Psychosophia: Journal of Psychology, Religion, and Humanity does not, therefore, operate either a Gold or Green model of open access, but is free to all at any time and in perpetuity. To facilitate this the Psychosophia: Journal of Psychology, Religion, and Humanity depends upon the financial underwriting provided by the Department of Islamic Psychology, IAIN Syaikh Abdurrahman Siddik Bangka Belitung, the goodwill of its editorial team and advisory board, and the continuing support of its network of peer reviewers.
A Creative Commons Attribution-NonComercial 4.0 (CC BY-NC 4.0) license applies to all contents published in Psychosophia: Journal of Psychology, Religion, and Humanity. While articles published on Psychosophia: Journal of Psychology, Religion, and Humanity can be copied by anyone for noncommercial purposes if proper credit is given, all materials are published under an open-access license with authors retaining full and permanent ownership of their work. Psychosophia: Journal of Psychology, Religion, and Humanity retains a perpetual, non-exclusive right to publish the work and to include it in other aggregations and indexes to achieve broader impact and visibility. Authors are responsible for and required to ascertain that they are in possession of image rights for any and all photographs, illustrations, and figures included in their work or to obtain publication or reproduction rights from the rights holders. In submitting their work for publication in Psychosophia: Journal of Psychology, Religion, and Humanity, authors agree to the terms set above. Authors are free and encouraged to store their work elsewhere, for instance in institutional repositories or websites such as academia.edu to increase circulation (see The Effects of Open Access). Authors are also able to enter into separate, additional contractual arrangements for the non-exclusive distribution of the journal's published version of the work with an acknowledgment of its initial publication in this journal. Psychosophia: Journal of Psychology, Religion, and Humanity does not charge any reprint fees and it is not necessary to contact Psychosophia: Journal of Psychology, Religion, and Humanity for permission.
This work is licensed under a
Creative Commons Attribution-NonCommercial 4.0 International License
.