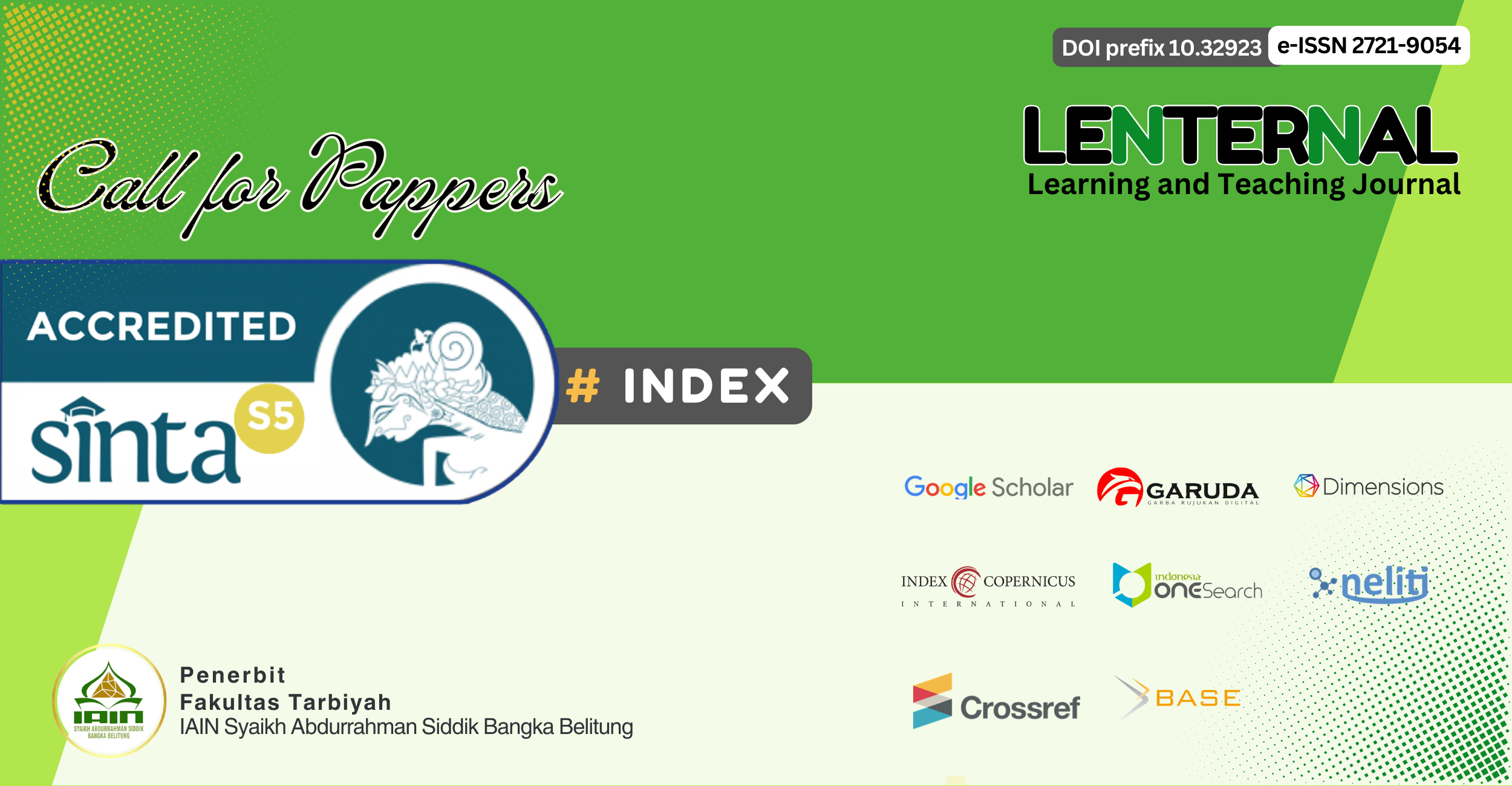 LENTERNAL: Learning and Teaching Journal,
ISSN Online
2721-9054
is a peer-reviewed journal and scientific journal published by Faculty of Tarbiyah, IAIN Syaikh Abdurrahman Siddik Bangka Belitung. This journal aims to publish articles dedicated to all aspects of teaching and learning. The journal focuses on learning and teaching, teacher preparation, innovation in learning and teaching, teacher professional development, and all aspects of learning and teaching. The journal welcomes varied approaches (qualitative, quantitative, and mixed methods) to empirical research; also publishing high-quality systematic reviews and meta-analyses. Manuscripts should enhance, build upon, and/or extend the boundaries of theory, research, and/or practice in teaching and learning. The Journal publishes three times a year and is open access to readers
Vol 4 No 1 (2023): LENTERNAL: Learning and Teaching Journal
View All Issues
The publication of the manuscript in this journal may be charges (APCs). APCs grant to the authors for cover publication cost. The APCs waiver can also apply or given for with some of the provisions. Please take a look Article Charges and waiver for detailed information.
Online Submission
Already have a Username/Password for LENTERNAL: Learning and Teaching Journal >> Go to Login
or Need a Username / Password? >> Go to Registration
Our Timeline and Publications
Do you want to look our latest publication >> Current
or See all our publication >> Archives
If you have some problem or questions, don't hesistant >> Contact Us

For quick response please send by email to lenternal12@gmail.com. Please mention your subject: Your Name and what kind of your problem with our Online Submission system. Our team will reply to all your questions or problems related to our Journals as soon as possible. Thank you for your patience.