SUMBER MAKNA HIDUP NELAYAN PANTAI MENGANTI: Studi Interpretative Phenomenological Approach (IPA)
Emil Niti Kusuma

Pemerhati Komunitas Nelayan
Keywords:
the meaning of life, fishermen, interpretative phenomenological approach (IPA)
Abstract
The aim of this study is to reveal what are the sources of meaning of life and what are the characteristics of meaning of life. The study was conducted on the subject of five fishermen in Menganti Beach, Kebumen, Central Java. This study imprints the phenomenology paradigm, especially the Interpretative Phenomenological Approach (IPA) which is useful to uncover the meaning of life of the fishermen. The findings in this study include: 1) sources of fishermen's life meaning that are structured in the form of creative values ​​(such as self-actualization, and structuring of the meaning of life), attitudinal values ​​(attitudes facing boundary situations, self-control, fortitude, courage), experiential values ​​( vertical self- transcendence, horizontal self-transcendence, related and well-being); 2) characteristics of the meaning of life of fishermen consisting of unique experiences, concrete results, meaning of life as a guide to direct life forward.
Downloads
Download data is not yet available.
References
Agte, V. V. & Chiplonkar, S. A. (2007). Linkage of concepts of good nutrition in yoga and modern science. Current Science, 92(7), 956-961
Bahri, S. (2014). Dinamika pengetahuan nelayan pancing kupa, Kabupaten Barru, Provinsi Sulawesi Selatan: Balai Pelestarian Budaya Makassar. 5(2), 265-276
Bastaman, H. D. (2007). Logoterapi: Psikologi untuk menemukan makna hidup dan meraih hidup bermakna, Jakarta: PT. Raja Grafindo.
Baron, R. A. & Byrne, D. (2005). Psikologi social. Diterjemahkan: Djuwita, R. Edisi Kesepuluh. Jilid 2. Erlangga: Jakarta
Boeree, C. G (2006). Personality theories: Viktor Frankl. Shippensburg: Psychology Department Shippensburg University
Cronbach, L.J. (1963). Educational psychology. New York: Harcourt, Brace & World, Inc.
Diener, E., & Tov, W. (2007). Culture and subjective well-being. In S. Kitayama & D. Cohen (Eds.), Handbook of cultural psychology. New York: Guilford
Diener, E. (2009). Assessing well-being; The collected works of Ed Diener. New York: Springer
Ford, D. L., John C. C., & Hal W. (2006). Life choices: the search for meaning. Journal College and Character. 7(1), 1-7
Frankl, V. E. (1992). Man's search for meaning. Massachusetts: Beacon Press
Fromm, E. (1956). The art of loving. New York: Harper & Brothers.
Hadberg, P. (2013), Purpose in life among very old people. Umea University Medical Dissertations. 2(3), 100-105
Hamdani, H. (2013), Faktor penyebab kemiskinan nelayan tradisional. Artikel Penelitian Ilmiah Penelitian Mahasisiwa Universitas Jember. 1-8
Hoed, B. H. (2014). Semiotik & dinamika sosisal budaya. Depok: Komunitas Bambu
Hurlock, E. B. (1973). Adolescent development. 4th Edition. Tokyo: McGraw Hill Kogakusha
Iriana, S. (2005). Derita cinta tak terbalas: proses pencarian makna hidup. Yogyakarta: Jalasutra
Kotler, P. & Keller, K. (2009). Manajemen pemasaran. Diterjemahkan: Molan, B. Jilid 1. Jakarta: Indeks
______. (2009). Manajemen pemasaran. Diterjemahkan: Molan, B. Jilid 2. Jakarta: Indeks
Kusnadi, E. (2003). Akar kemiskinan nelayan. Yogyakarta: LKIS
______. (2009). Keberdayaan nelayan dan dinamika ekonomi pesisir. pusat penelitian wilayah pesisir dan pulau-pulau kecil. Jember: Lembaga Penelitian Universitas Jember
Langle, A. (2005). The search for meaning in life and the existential fundamental motivation. Existential Analysis 16(1), 2-14
Moleong, L. J. 2013. Metode penelitian kualitatif, edisi revisi. Bandung: PT. Remaja Rosdakarya
Mulyadi, S. (2007). Ekonomi kelautan. Jakarta: PT Raja Grafindo Persada
Murtadlo, M. (2006). Logoterapi: Terapi psikologi melalui pemaknaan eksistensi. Yogyakarta: Kreasi wacana
Musawa, M., Suryaningsih, M. & Marom, A. (2007). Pemanfaatan waktu luang nelayan diluar pekerjaannya ke laut. Jurnal Ilmu Sosial 6(1), 12–19
Notoatmodjo, S. (2012). Metodologi penelitian kesehatan. Jakarta: PT. Rineka Cipta
Park, C. L., Malone, M. R., Suresh, D. P., Bliss, D., & Rosen, R. I. (2008). Coping, meaning in life, and quality of life in congestive heart failure patients. Quality Of Life Research, 17 (1) 21–26
Poerwandari. (2007). Pendekatan kualitatif untuk penelitian perilaku manusia. Jakarta: Perfecta. Fakultas Psikologi Universitas Indonesia.
Purwanti, B. D. & Wulandari, K. (2013). Gaya hidup masyarakat nelayan. Artikel Penelitian Ilmiah Penelitian Mahasisiwa Universitas Jember. 1-6
Ratni D. M., Salam, A., & Baruadi, A.S. (2015). Tingkat kesejahteraan masyarakaat pancing tonda di Desa Pasokan Kabupaten Tojo Una-Una Provinsi Sulawesi Tengah. Nike: Jurnal Imiah Perikanan & Kelautan. 3(4), 156-159
Ripenen, M. (1997). The relationship between job involvement and well-being. Journal of Psychology, 131(1), 81-89
Salamun, K (2006). Karl Jaspers' conceptions of the meaning of life University of Graz, Austria. 1(2) 1-8
Santrock, J. W. (2011). Life-span development, 13th Edition. New York: McGraw-Hill
Sastrawidjaya. (2002). Nelayan dan kemiskinan, Jakarta: Penerbit Pradnya Paramita
Scannell, D. E. Allen, F. C. L. & Burton, J. (2002). Meaning in life and positive and negative well‐being. North American Journal Psychology, 4(1), 93-112
Schnell, T. (2014). Meaning in life operationalized: An empirical approach to existential psychology. Conception of Meaning. 8, 173-191
Setyarini, S. & Atamimi, N. (2011). Self-esteem dan makna hidup pada pensiunan Pegawai Negeri Sipil (PNS). Jurnal psikologi, 38(1) 176-184
Smith, J. A. (ed.). (2009). Psikologi kualitatif, panduan praktis metode riset. Terjemahan: qualitative psychology a practical guide to research method. Yogyakarta: Pustaka Pelajar
Snyder, C. R. & Lopez, S. J. (2012). The Oxford handbook of positive psychology. 2nd Edition. New York: Oxford UniversityPress
Steger, M. F., Oishi, S. & Kashdan, T. B. (2009). Meaning In Life Across The Life Span: Levels and Correlates of Meaning in Life From Emerging Adulthood To Older Adulthood. The Journal of Positive Psychology. 4(1), 43-52
Subandi, M. A. (2011). Sabar: Sebuah konsep psikologi. Jurnal psikologi, 38(2), 215-227
______. (2009). Psikologi dizkir: Studi fenomenologi pengalaman transformasi religius. Yogyakarta: Pustaka Pelajar
Sugiyono. (2016). Metode penelitian kuantitatif, kualitatif, dan R&D. Bandung: Alfabeta
Suryomentaram, Ki. A. (2002). Falsafah hidup bahagia: Jalan menuju aktualisasi diri jilid 1 / Kawruh jiwa: Wejanganipun Ki Ageng Suryomentaram, Diterjemahkan: Ki Grangsang Suryomentaram, Ki Otto Suastiko, Ki Moentoro Atmosentono. Jakarta: Grasindo
Townsend, M. C. (2009). Psychiatric mental health nursing: concepts of care in evidence based practice. 6th edition. Philadeplhia: FA Davis Company
Watkins, P. C. (2014). Gratitude and the good life: Toward a psychology of appreciation. New York: Springer
Widodo, J., & Suadi. (2006). Pengelolaan sumber daya perikanan laut, Yogyakarta: Gadjah Mada University Press
Wood, A. M., Maltby, J., Gillett, R., Linley, P. A., & Joseph, S. (2008). The role of gratitude in the development of social support, stress, and depression: Two longitudinal studies. Journal of Research in Personality, 42, 854–871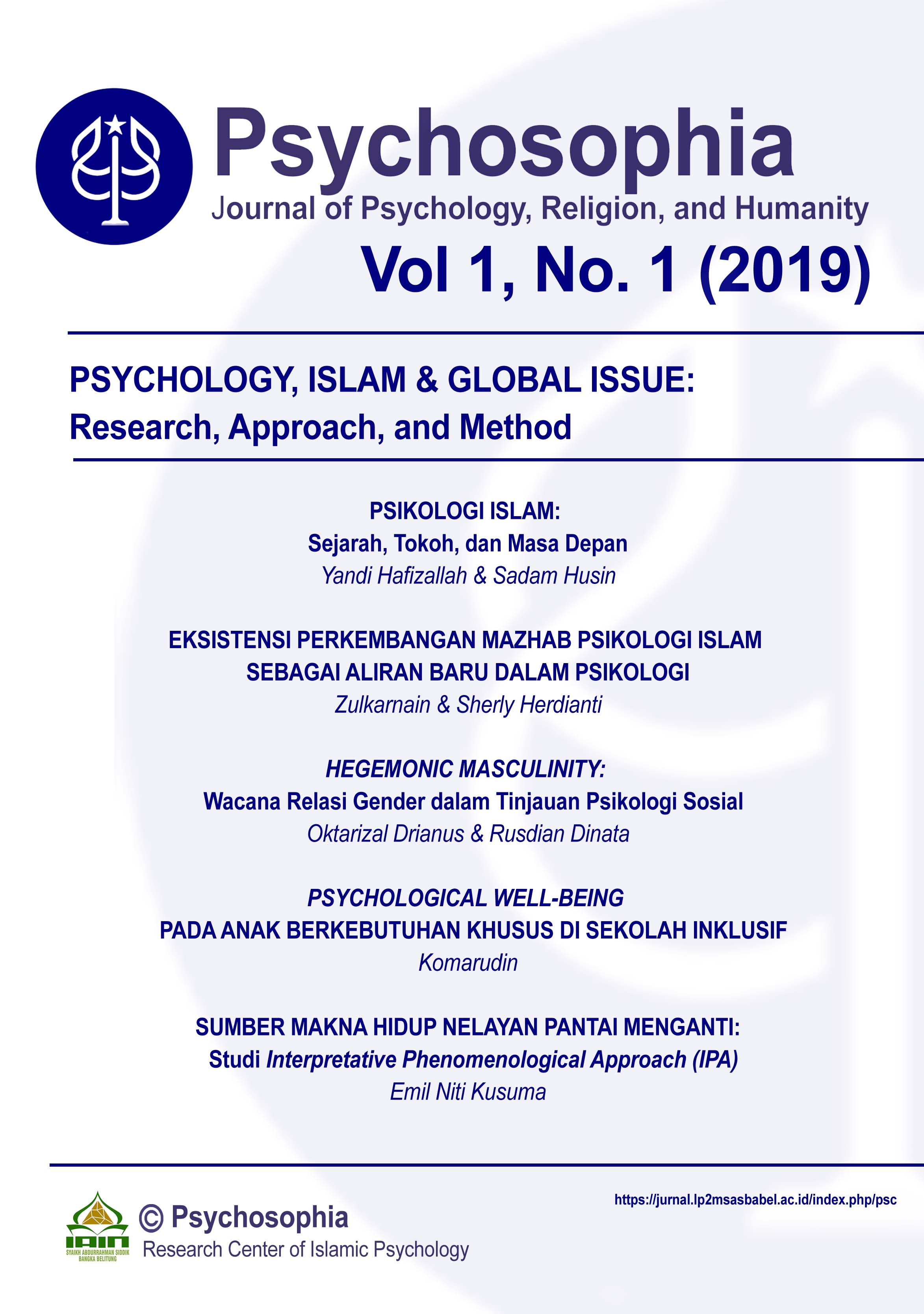 How to Cite
Kusuma, E. (2019). SUMBER MAKNA HIDUP NELAYAN PANTAI MENGANTI: Studi Interpretative Phenomenological Approach (IPA). Psychosophia: Journal of Psychology, Religion, and Humanity, 1(1), 62-81. Retrieved from https://jurnal.lp2msasbabel.ac.id/index.php/psc/article/view/874
Section
Psychological Research
(c) copyright holder by Author