Eksistensi Komisi Penyiaran Indonesia Daerah (KPID) dalam Memperkuat Sistem Pengawasan Lembaga Penyiaran dan Materi Siaran
Muslim Ansori

IAIN Syaikh Abdurrahman Siddik Bangka Belitung, Indonesia
Keywords:
Existence, KPID, Supervision System, Broadcasting Media, Media Regulation
Abstract
Facing the digital revolution era nowadays, where all the information can be easily obtained through our personal mobile phones that can be accessed personally via social electronic media it should be noted whether the contents of the information are inappropriate to be broadcasted and published through electronic media. With the rise of inappropriate information obtained by the public such hoaxes, KPID (Indonesian Broadcasting Commission) as a state institution that regulates all matters related to broadcast ethics must pay attention to the broadcasting and publishing regulations whether they have already been implemented by the media in order to provide good information. This commission can cooperate with other institution to say war against hoaxes. A firm reaction must be taken by KPID to the media that violates broadcast materials regulation.  They can be given a warning or revoked their right to broadcast or publish as an action of supervision of the broadcasting media.  So, the news given by the media can be justified and also be useful to educate Indonesian society.
Downloads
Download data is not yet available.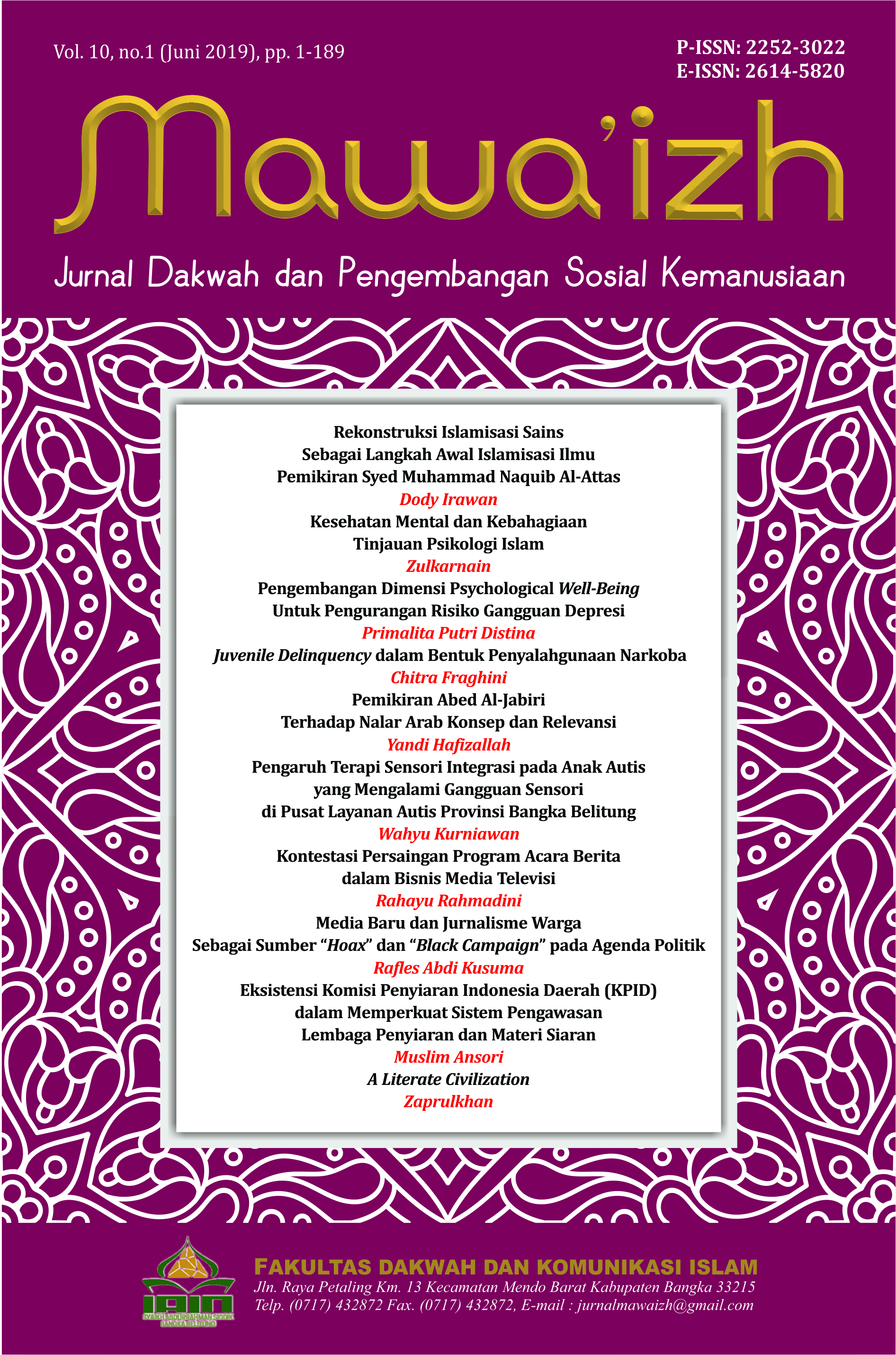 How to Cite
Ansori, M. (2019). Eksistensi Komisi Penyiaran Indonesia Daerah (KPID) dalam Memperkuat Sistem Pengawasan Lembaga Penyiaran dan Materi Siaran. Mawaizh : Jurnal Dakwah Dan Pengembangan Sosial Kemanusiaan, 10(1), 152-170. https://doi.org/10.32923/maw.v10i1.789
Copyright (c) 2019 Mawa'izh: Jurnal Dakwah dan Pengembangan Sosial Kemanusiaan
This work is licensed under a Creative Commons Attribution 4.0 International License.
Pemberitahuan Hak Cipta
Untuk semua artikel yang dimuat di Mawa'izh (Jurnal Dakwah dan Pengembangan Sosial Kemanusiaan), hak cipta tetap milik penulis.

Penulis memberikan izin kepada penerbit untuk mengumumkan karyanya dengan syarat.

Ketika naskah diterima untuk diterbitkan, penulis menyetujui pengalihan otomatis hak penerbitan kepada penerbit.

Penulis memegang hak cipta dan memberikan jurnal hak publikasi pertama dengan karya yang dilisensikan secara bersamaan di bawah

Lisensi Internasional Creative Commons Attribution 4.0.

yang memungkinkan orang lain untuk membagikan karya tersebut dengan pengakuan atas kepenulisan karya tersebut dan publikasi awal di jurnal ini.

Penulis dapat mengadakan perjanjian kontrak tambahan yang terpisah untuk distribusi non-eksklusif dari versi terbitan jurnal (misalnya, mempostingnya ke repositori institusi atau menerbitkannya dalam buku), dengan pengakuan atas publikasi awalnya pada tahun jurnal ini.

Penulis diizinkan dan didorong untuk memposting karya mereka secara online (misalnya, di repositori institusi atau di situs web mereka) sebelum dan selama proses penyerahan, karena hal ini dapat mengarah pada pertukaran yang produktif, serta kutipan yang lebih awal dan lebih besar atas karya yang diterbitkan (Lihat The

Pengaruh Akses Terbuka

)
SURAT PENUGASAN HAK CIPTA
Sebagai penulis Jurnal Mawa'izh Fakultas Dakwah dan Komunikasi Islam IAIN Syaikh Abdurrahman Siddik Bangka Belitung Indonesia, saya yang bertanda tangan di bawah ini:
Menyatakan:
Makalah saya asli;

tulisan saya sendiri dan belum pernah dipublikasikan/diusulkan pada jurnal dan publikasi lain.

Makalah saya bukan plagiarisme melainkan ide/penelitian asli saya.

Makalah saya tidak ditulis oleh bantuan lain, kecuali dengan rekomendasi Dewan Editor dan Reviewer yang telah dipilih oleh jurnal ini.

Dalam makalah saya, tidak ada tulisan atau pendapat lain kecuali yang disebutkan dalam daftar pustaka dan relevan dengan kaidah penulisan di jurnal ini.

Saya membuat tugas ini dengan pasti.

Jika ada distorsi dan ketidakbenaran dalam penugasan ini, nanti saya akan bertanggung jawab sesuai hukum yang berlaku.