Juvenile Delinquency dalam Bentuk Penyalahgunaan Narkoba
Keywords:
Adolescent, juvenile delinquency, drug abuse
Abstract
Adolescents are the next generation for building the nation. Therefore, the juvenile delinquency against drug abuse increasingly from time to time, become one of concern to the government. The Causes factors of drug abuse by adolescents like as the miss of parenthood, the absence of empowerment by parents, the environment, peers. Parenthood plays an important role in preventing juvenile delinquency in the form of drug abuse. Lack of religiosity and moral ethics causes the adolescents to act brutally, lack of self-control also makes adolescents so vulnerable and the end they falling into a drug abuse trap. The social environment that does not support the growth of adolescents is the other factor that makes adolescently vulnerable to falling into drug use. One effort to overcome juvenile delinquency problems against drug abuse is still being carried out by related parties. One of the efforts is eradicated its circulation. But if it is not supported by the environment, drug problems will continue to run rampant and damage the adolescents.
Downloads
Download data is not yet available.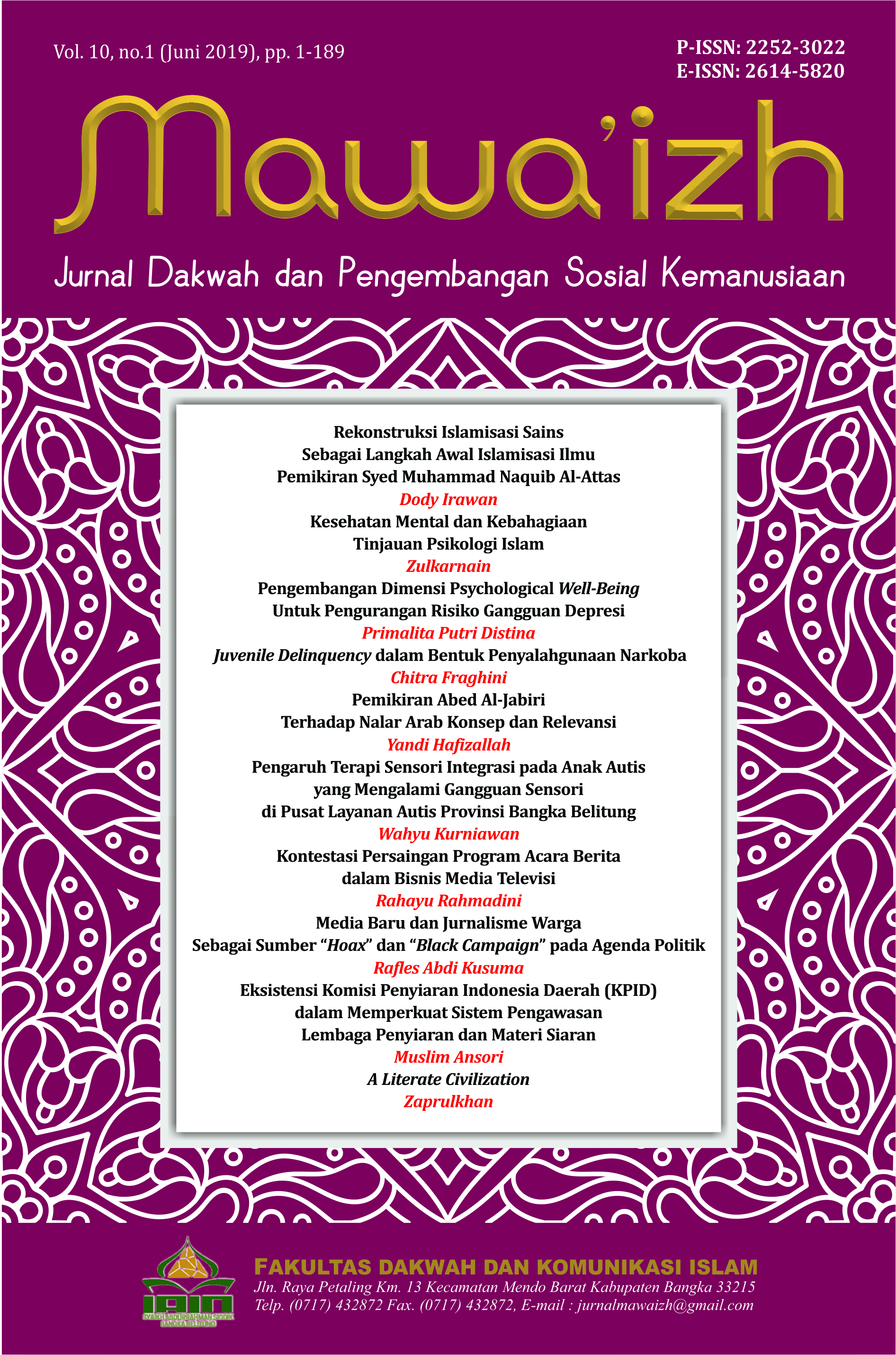 How to Cite
Fraghini, C., & Putri, S. (2019). Juvenile Delinquency dalam Bentuk Penyalahgunaan Narkoba. MAWA IZH JURNAL DAKWAH DAN PENGEMBANGAN SOSIAL KEMANUSIAAN, 10(1), 77-95. https://doi.org/10.32923/maw.v10i1.780
Copyright (c) 2019 Mawa'izh: Jurnal Dakwah dan Pengembangan Sosial Kemanusiaan
This work is licensed under a Creative Commons Attribution 4.0 International License.
LETTER OF COPYRIGHT ASSIGNMENT
As an author of Jurnal Mawa'izh of Faculty of Da'wah and Islamic Communication IAIN Syaikh Abdurrahman Siddik Bangka Belitung Indonesia, I, who sign below:
Declare:
My paper is authentic; my own writing and it has not been published/proposed on any other journals and publication.
My paper is not plagiarism but my original idea/research.
My paper is not written by other help, except with Board of Editors and Reviewers recommendation who have been chosen by this journal.
In my paper, there are no other writings or opinions except referred in bibliography and relevant with the rule of writing in this journal.
I give all my copyright of this paper to this journal include the right for managing and publication.
I make this assignment surely. If there are distortion and untruth in this assignment, later, I will take responsibility as the current law.