Pemikiran Abed Al-Jabiri Terhadap Nalar Arab: Konsep dan Relevansi
Yandi Hafizallah

IAIN Syaikh Abdurrahman Siddik Bangka Belitung, Indonesia

Muhammad Abdul Wafa

IAIN Syaikh Abdurrahman Siddik Bangka Belitung, Indonesia
Keywords:
Abed al-Jabiri, Irfani, Burhani, Bayani, Arabic Reasoning
Abstract
This paper aims to explain and analyze the epistemological aspects based on the thoughts of Abed al-Jabiri, especially regarding the thinking of three Arabic reasoning of al-Jabiri. The study refers to three thoughts of Arabic al-Jabiri reasoning about epistemology namely: "epistemology of Bayani", the epistemology of Irfani ", and" epistemology of Burhani". The search for the texts relating to the three epistemologies produces several findings in this study, among others: 1) Relevance between three Arabic reasoning that does not always stand alone but all three reasoning are also integrated with each other, even though Arabic reasoning is a formation from a culture; 2) The shift of reasoning culture analyzed using the socio-historical approach to the development of Arabic reasoning makes Jabiri make Arabic reasoning a "thinking structure", each of which has advantages and disadvantages; 3) The criticisms of the reasoning model conducted by Abed al-Jabiri are used to formulate methods of understanding knowledge. The three Arabic reasonings described by abed al-Jabiri rely on aspects emphasized in reason and reality, philosophy and science, and revelation texts and Nash.
Downloads
Download data is not yet available.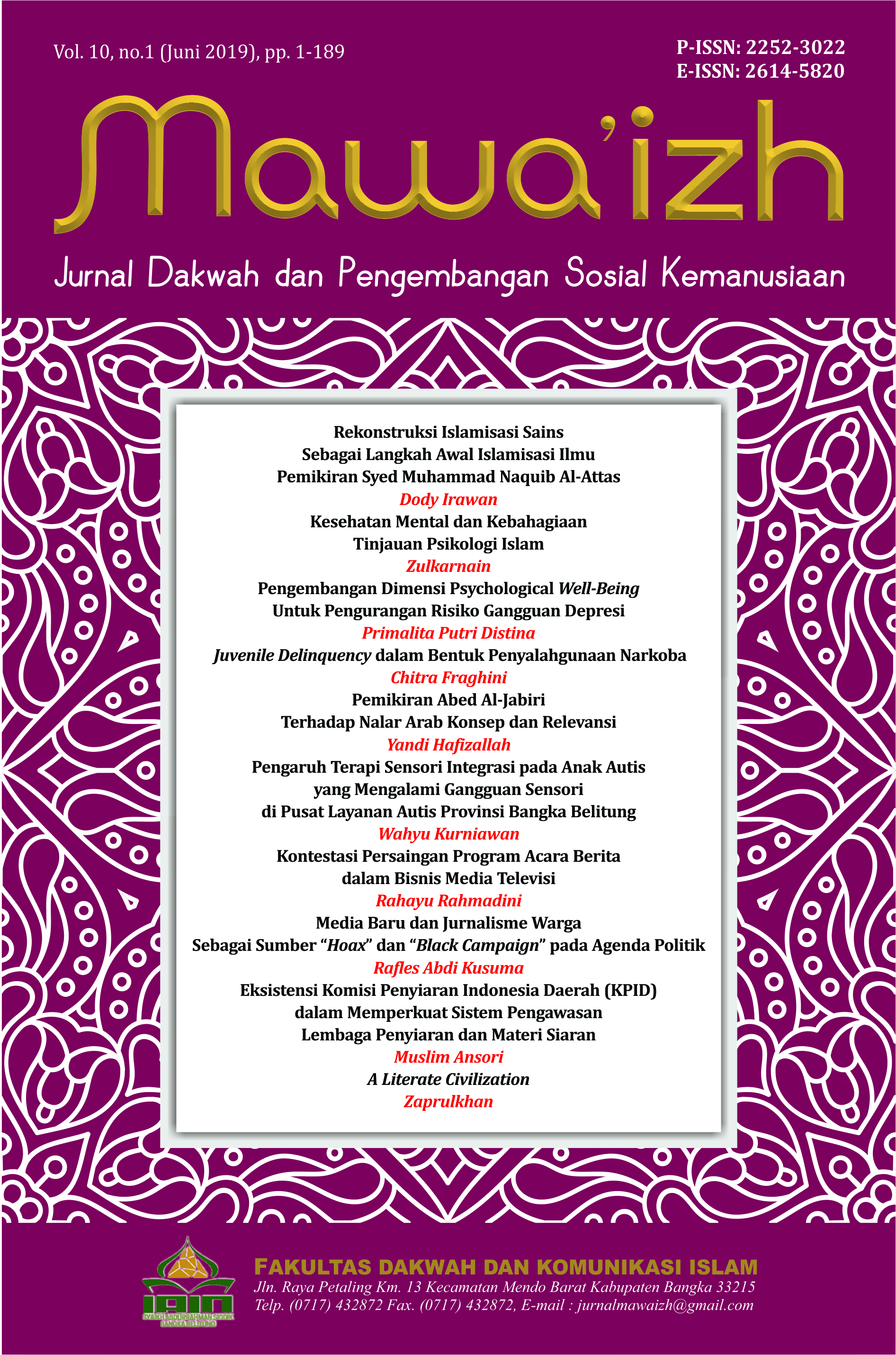 How to Cite
Hafizallah, Y., & Wafa, M. (2019). Pemikiran Abed Al-Jabiri Terhadap Nalar Arab: Konsep dan Relevansi. MAWA IZH JURNAL DAKWAH DAN PENGEMBANGAN SOSIAL KEMANUSIAAN, 10(1), 60-76. https://doi.org/10.32923/maw.v10i1.742
Copyright (c) 2019 Mawa'izh: Jurnal Dakwah dan Pengembangan Sosial Kemanusiaan
This work is licensed under a Creative Commons Attribution 4.0 International License.
LETTER OF COPYRIGHT ASSIGNMENT
As an author of Jurnal Mawa'izh of Faculty of Da'wah and Islamic Communication IAIN Syaikh Abdurrahman Siddik Bangka Belitung Indonesia, I, who sign below:
Declare:
My paper is authentic; my own writing and it has not been published/proposed on any other journals and publication.
My paper is not plagiarism but my original idea/research.
My paper is not written by other help, except with Board of Editors and Reviewers recommendation who have been chosen by this journal.
In my paper, there are no other writings or opinions except referred in bibliography and relevant with the rule of writing in this journal.
I give all my copyright of this paper to this journal include the right for managing and publication.
I make this assignment surely. If there are distortion and untruth in this assignment, later, I will take responsibility as the current law.