Media Baru dan Jurnalisme Warga: Sebagai Sumber "Hoax" dan "Black Campaign" pada Agenda Politik
Rafles Abdi Kusuma

IAIN Syaikh Abdurrahman Siddik Bangka Belitung, Indonesia
Keywords:
new media, hoax, black campaign, citizen journalism, politic
Abstract
This article refers to the current communication issue where the emergence of new media give chance to the creation of a truly, practice of journalism. That is no longer conducted by professional journalists but by ordinary citizens. This writing focus on how the opportunities of new media and its challenges in people journalism and political agenda which using as fact news disseminators (hoax) and source run of black campaign content at both the national and regional political. The Habermas theory of public space where used to seeing new media become more crowded with various, opinion, news and of commentaries about politics. As in the case of seword.com, the news portal site was by a group of unknown writter its non credibility media worker. The use of social media by Bunni Yani who spread a message provocative and SARA in a contestation, political or agenda in the region hoax and black campaign. On the context of contestation or political agenda in the region, hoax and black campaign can break up nation's unity at the regional level. Even the phenomenon in Jakarta Local Election perceived have influenced political stability and life state in general in Indonesia. In which front new media uses and journalism that they have to more support by participation political public that puts forward ethics journalistic, to unite wholeness the people and the country, instead of divided.
Downloads
Download data is not yet available.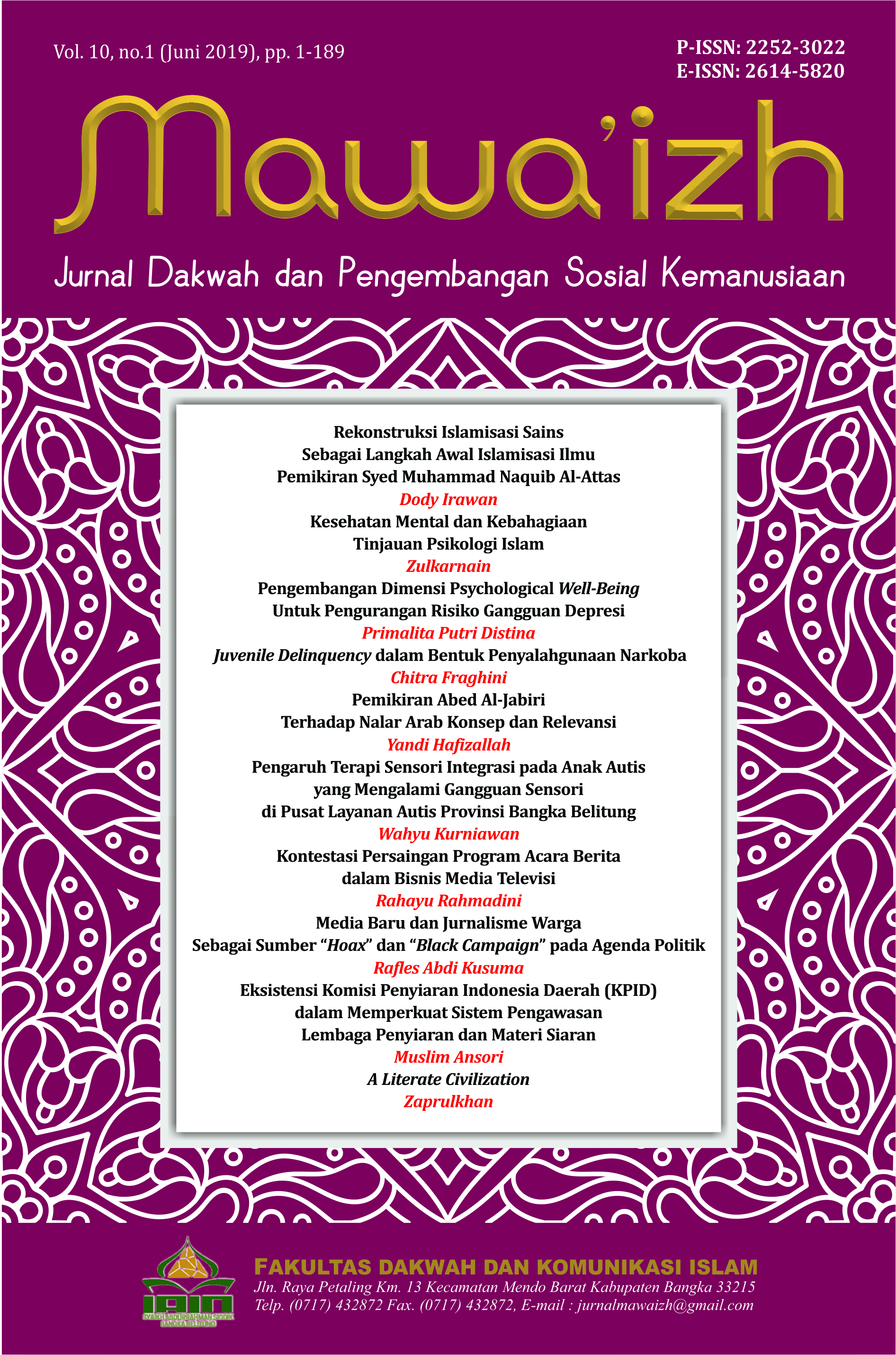 How to Cite
Kusuma, R. (2019). Media Baru dan Jurnalisme Warga: Sebagai Sumber "Hoax" dan "Black Campaign" pada Agenda Politik. MAWA IZH JURNAL DAKWAH DAN PENGEMBANGAN SOSIAL KEMANUSIAAN, 10(1), 134-151. https://doi.org/10.32923/maw.v10i1.739
Copyright (c) 2019 Mawa'izh: Jurnal Dakwah dan Pengembangan Sosial Kemanusiaan
This work is licensed under a Creative Commons Attribution 4.0 International License.
LETTER OF COPYRIGHT ASSIGNMENT
As an author of Jurnal Mawa'izh of Faculty of Da'wah and Islamic Communication IAIN Syaikh Abdurrahman Siddik Bangka Belitung Indonesia, I, who sign below:
Declare:
My paper is authentic; my own writing and it has not been published/proposed on any other journals and publication.
My paper is not plagiarism but my original idea/research.
My paper is not written by other help, except with Board of Editors and Reviewers recommendation who have been chosen by this journal.
In my paper, there are no other writings or opinions except referred in bibliography and relevant with the rule of writing in this journal.
I give all my copyright of this paper to this journal include the right for managing and publication.
I make this assignment surely. If there are distortion and untruth in this assignment, later, I will take responsibility as the current law.