Kesehatan Mental dan Kebahagiaan: Tinjauan Psikologi Islam
Zulkarnain Zulkarnain

IAIN Syaikh Abdurrahman Siddik Bangka Belitung, Indonesia

Siti Fatimah

IAIN Syaikh Abdurrahman Siddik Bangka Belitung, Indonesia
Keywords:
Mental health, Happiness, Islamic Psychology
Abstract
Mental health is often associated with happiness, is a scientific study and promotion of psychological well-being and function optimization in individuals. Of course a normal person will display good and acceptable behavior in general. His attitude in accordance with the norms and patterns of community groups, so that there are satisfying interpersonal and intersocial relations. Healthy mental health condition is that they avoid the symptoms of mental disorders, symptoms of mental illness, show their intelligence, and have a happy life attitude. Mental health can be reviewed in two ways, negatively with the absence of mental disorders and positively when the presence of a healthy individual mental personality refers to positive conditions or traits. Happiness in humans, includes positive feelings (comfortable-enjoyable) and positive activities. The goals to be achieved are developing studies on mentally impaired individuals, suffering from mental disorders and mental illness into positive personalities and interventions that believe that every individual in various conditions has the potential, ability to understand their strengths and weaknesses, and the ability to function optimally for happiness.
Downloads
Download data is not yet available.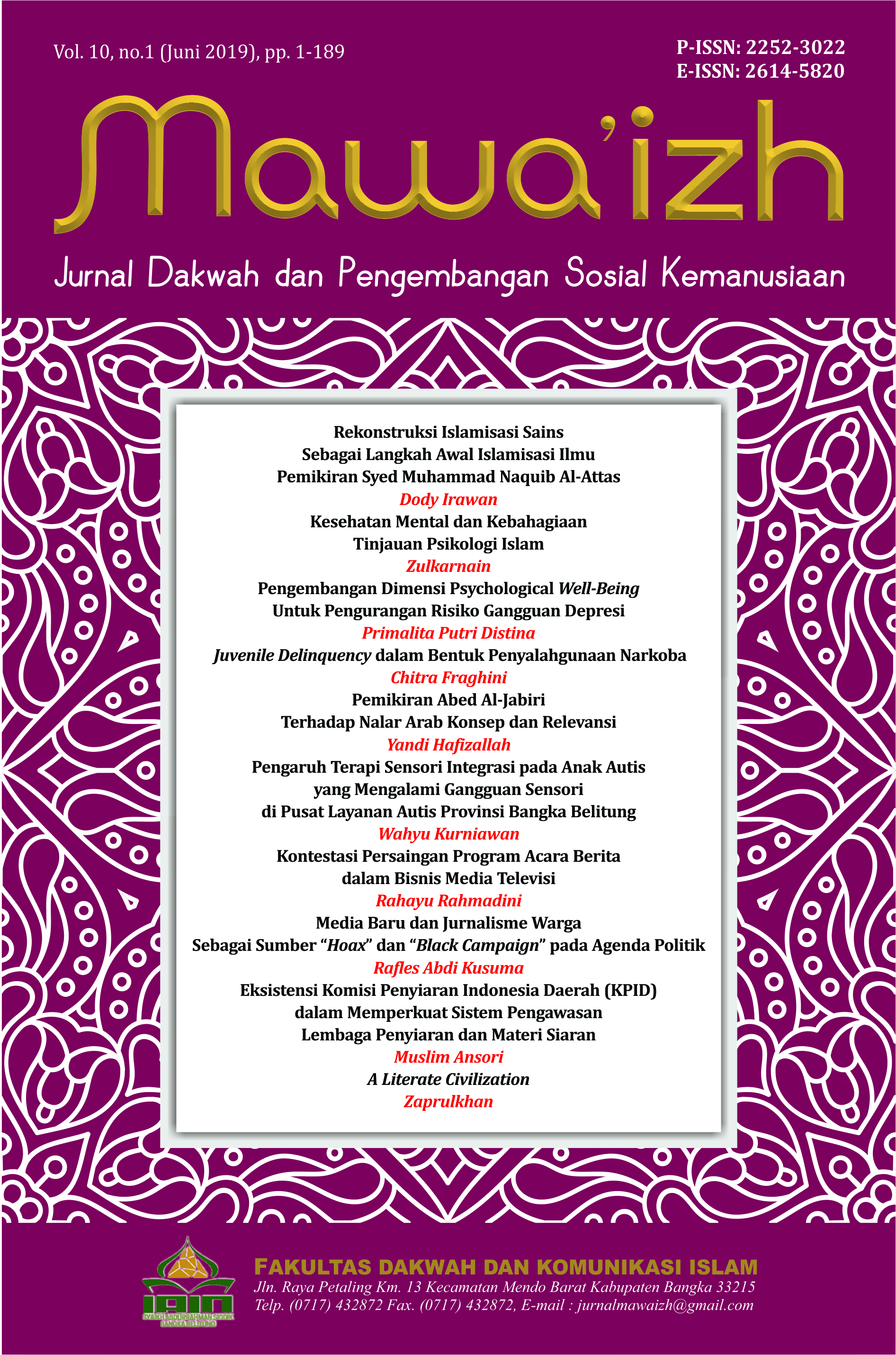 How to Cite
Zulkarnain, Z., & Fatimah, S. (2019). Kesehatan Mental dan Kebahagiaan: Tinjauan Psikologi Islam. MAWA IZH JURNAL DAKWAH DAN PENGEMBANGAN SOSIAL KEMANUSIAAN, 10(1), 18-38. https://doi.org/10.32923/maw.v10i1.715
Copyright (c) 2019 Mawa'izh: Jurnal Dakwah dan Pengembangan Sosial Kemanusiaan
This work is licensed under a Creative Commons Attribution 4.0 International License.
LETTER OF COPYRIGHT ASSIGNMENT
As an author of Jurnal Mawa'izh of Faculty of Da'wah and Islamic Communication IAIN Syaikh Abdurrahman Siddik Bangka Belitung Indonesia, I, who sign below:
Declare:
My paper is authentic; my own writing and it has not been published/proposed on any other journals and publication.
My paper is not plagiarism but my original idea/research.
My paper is not written by other help, except with Board of Editors and Reviewers recommendation who have been chosen by this journal.
In my paper, there are no other writings or opinions except referred in bibliography and relevant with the rule of writing in this journal.
I give all my copyright of this paper to this journal include the right for managing and publication.
I make this assignment surely. If there are distortion and untruth in this assignment, later, I will take responsibility as the current law.