A Literate Civilization
Zaprulkhan Khan

IAIN Syaikh Abdurrahman Siddik Bangka Belitung, Indonesia
Keywords:
internet, literacy, writing
Abstract
In the electronic age today, the internet continues to experience innovation and development. The internet is bringing people increasingly into a beautiful world without limits called the digital era. This is the special service that digital technology presents to humans in this era. The most popular icon of digital technology is social media. Social media rose to the top of the digital technology products that are the most popular among the world's people today. Popping up various kinds of social media: Facebook, Twitter, Google+, Instagram, Path, Pinterest, Tumblr, Flickr, WhatsApp and more. The number of social media users abounds. The graph rose sharply in a short time to reach billions. According to experts, the world of social media is like a double-edged knife. On the one hand, it can provide a huge benefit for people who can use it well. But on the other hand, it can also cause harm, a bad impact for people who are not able to use it properly, well, and appropriately. This paper will explore the benefits of literacy, which is actively writing through social media platforms in various forms.
Downloads
Download data is not yet available.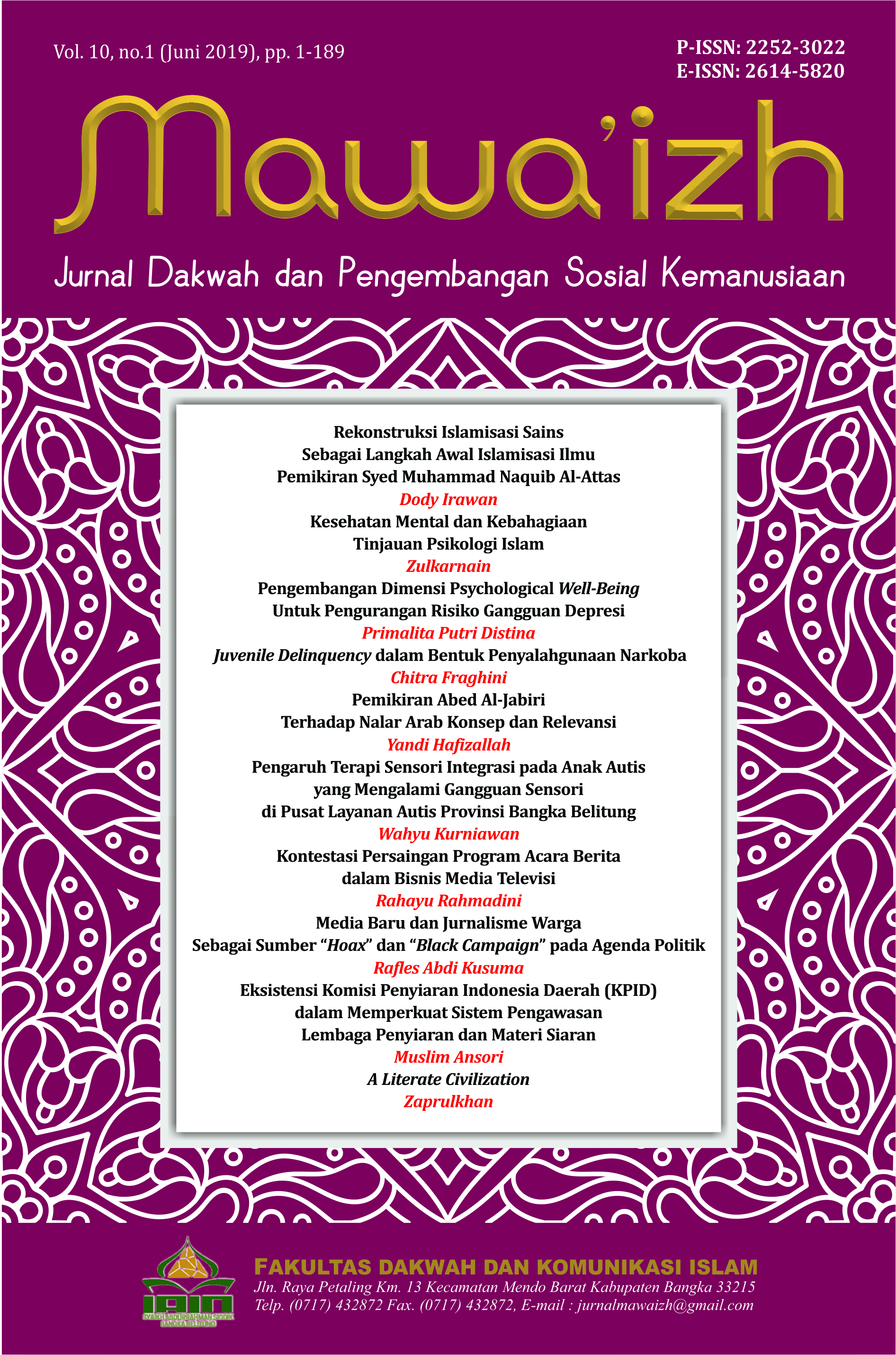 How to Cite
Khan, Z. (2019). A Literate Civilization. MAWA IZH JURNAL DAKWAH DAN PENGEMBANGAN SOSIAL KEMANUSIAAN, 10(1), 171-189. https://doi.org/10.32923/maw.v10i1.710
Copyright (c) 2019 Mawa'izh: Jurnal Dakwah dan Pengembangan Sosial Kemanusiaan
This work is licensed under a Creative Commons Attribution 4.0 International License.
LETTER OF COPYRIGHT ASSIGNMENT
As an author of Jurnal Mawa'izh of Faculty of Da'wah and Islamic Communication IAIN Syaikh Abdurrahman Siddik Bangka Belitung Indonesia, I, who sign below:
Declare:
My paper is authentic; my own writing and it has not been published/proposed on any other journals and publication.
My paper is not plagiarism but my original idea/research.
My paper is not written by other help, except with Board of Editors and Reviewers recommendation who have been chosen by this journal.
In my paper, there are no other writings or opinions except referred in bibliography and relevant with the rule of writing in this journal.
I give all my copyright of this paper to this journal include the right for managing and publication.
I make this assignment surely. If there are distortion and untruth in this assignment, later, I will take responsibility as the current law.