Gerakan Progresif Muhammadiyah Dalam Pembaharuan Pendidikan Islam Dan Sosial Keagamaan Di Indonesia
Muhammad Sholeh Marsudi

IAIN Syaikh Abdurrahman Siddik Bangka Belitung

Zayadi Zayadi

IAIN Syaikh Abdurrahman Siddik Bangka Belitung
Keywords:
Muhammadiyah, Pembaharuan, Progresif
Abstract
This paper aims to discuss the progressive movement of Muhammadiyah in the renewal of Islamic and socio-religious education in Indonesia, which includes the history of Muhammadiyah as a progressive movement, renewal of Islamic education in Muhammadiyah and Muhammadiyah as a socio-religious movement. The method used is library research and analyzed with a reflective thinking approach by combining deductive and inductive approaches. The results of the discussion show that Muhammadiyah as a progressive Islamic movement was driven by the awareness of social responsibility at the time of its birth through the modernization of education and social activism. Muhammadiyah education reform movement. Muhammadiyah's educational modernization by adopting a secular educational institutional system and modernizing the Islamic education system in madrasas/Islamic boarding schools. In the social and religious fields, Muhammadiyah's businesses and activities are realized through various Muhammadiyah charities.
Keywords: Muhammadiyah; Educational Reform; Religious Social
Abstrak :
Tulisan ini bertujuan untuk membahas tentang gerakan progresif Muhammadiyah dalam pembaharuan pendidikan islam dan sosial keagamaan di Indonesia, yang mencakup sejarah Muhammadiyah sebagai gerakan progresif, pembaharuan pendidikan islam di Muhammadiyah dan Muhammadiyah sebagai gerakan sosial keagamaan. Metode yang digunakan adalah library resarch dan dianalisis dengan pendekatan reflektif thinking dengan memadukan pendekatan deduktif dan induktif. Hasil pembahasan menunjukan bahwa Muhammadiyah sebagai gerakan progresif Islam didorong oleh kesadaran tanggung jawab sosial pada masa kelahirannya melalui modernisasi pendidikan dan aktivisme sosial. gerakan pembaharuan pendidikan Muhammadiyah. Modernisasi pendidikan yang dilakukan Muhammadiyah dengan mengadopsi sistem kelembagaan pendidikan sekuler dan modernisasi sistem pendidikan islam di madrasah/pesantren. Di bidang sosial dan keagamaan usaha dan kegiatan Muhammadiyah diwujudkan melalui berbagai amal usaha Muhammadiyah.
Kata kunci: Muhammadiyah; Pembaharuan Pendidikan; Sosial Keagamaan
Downloads
Download data is not yet available.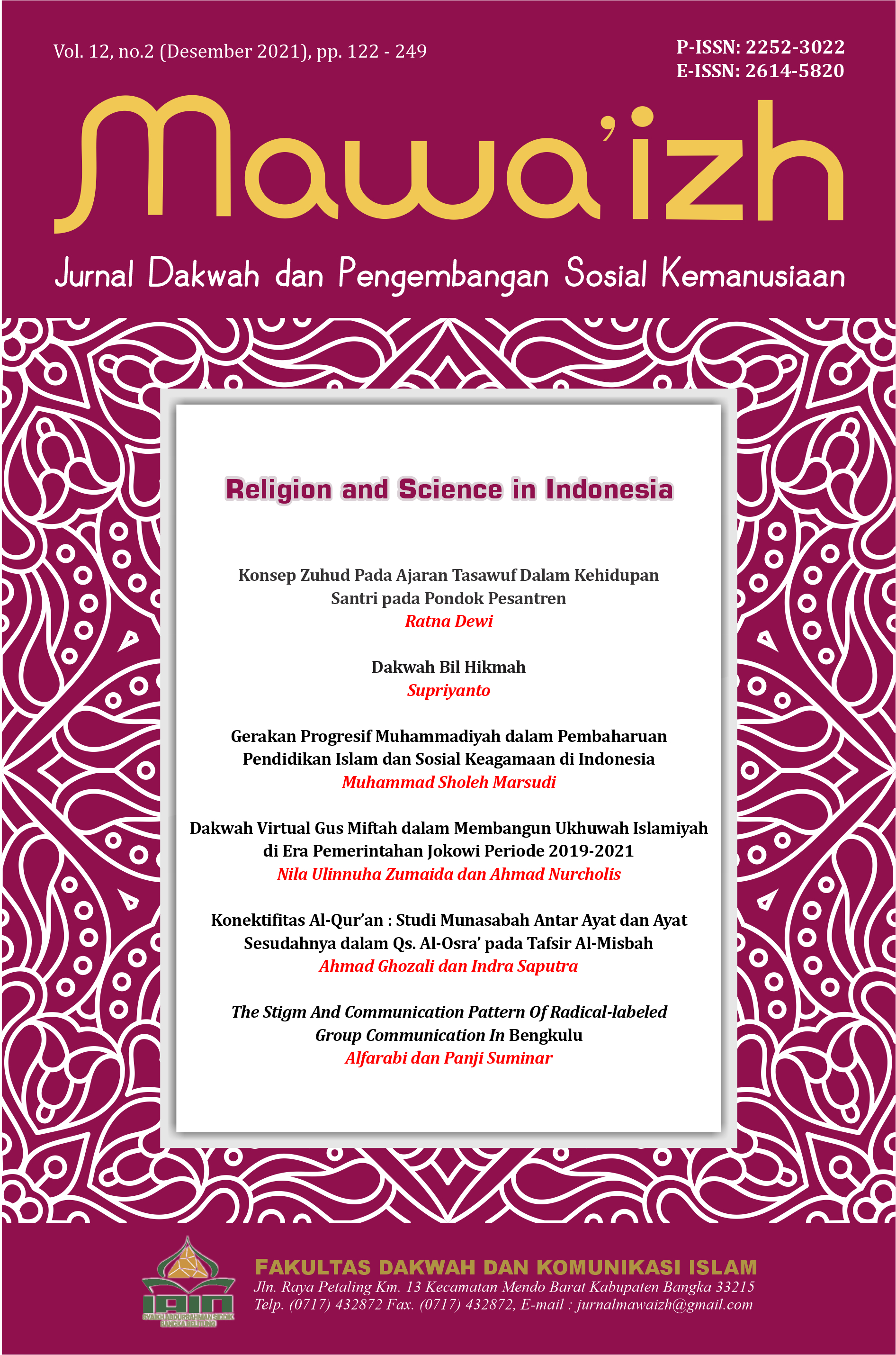 How to Cite
Marsudi, M., & Zayadi, Z. (2021). Gerakan Progresif Muhammadiyah Dalam Pembaharuan Pendidikan Islam Dan Sosial Keagamaan Di Indonesia. MAWA IZH JURNAL DAKWAH DAN PENGEMBANGAN SOSIAL KEMANUSIAAN, 12(2), 160-179. https://doi.org/10.32923/maw.v12i2.2035
Copyright (c) 2021 Muhammad Sholeh Marsudi
This work is licensed under a Creative Commons Attribution 4.0 International License.
LETTER OF COPYRIGHT ASSIGNMENT
As an author of Jurnal Mawa'izh of Faculty of Da'wah and Islamic Communication IAIN Syaikh Abdurrahman Siddik Bangka Belitung Indonesia, I, who sign below:
Declare:
My paper is authentic; my own writing and it has not been published/proposed on any other journals and publication.
My paper is not plagiarism but my original idea/research.
My paper is not written by other help, except with Board of Editors and Reviewers recommendation who have been chosen by this journal.
In my paper, there are no other writings or opinions except referred in bibliography and relevant with the rule of writing in this journal.
I give all my copyright of this paper to this journal include the right for managing and publication.
I make this assignment surely. If there are distortion and untruth in this assignment, later, I will take responsibility as the current law.