Memahami Pola Ijtihad dalam Modernisasi Hukum Wakaf di Indonesia
Athoillah Islamy

IAIN Pekalongan

Alfiandri Setiawan

UIN Sultan Syarif Kasim Riau

Nuryasni Yazid

Pemerintah Daerah Kabupaten Bengkalis
Keywords:
Ijtihad, renewal, waqf, Indonesia
Abstract
This study aims to find the pattern of ijtihad in the renewal of waqf law in Indonesia as stipulated in Law No. 41 of  2004. The focus of the object of this research is Article 1 regarding the existence of waqf, Article 16 regarding waqf objects, and Article 40 concerning changes in the status of property. waqf. This research is a qualitative research in the form of literature review. This type of Islamic legal research is included in the category of philosophical normative legal research. The analytical theory used is the contemporary typology of ijtihad proposed by Yusuf al-Qaradawi. This research concludes that the construction of waqf legal reform in Article 1 regarding the existence of waqf, Article 16 regarding the object of waqf, and Article 40 regarding changes in the status of waqf assets tends to use the ijtihad intiqa'i approach, which is to choose a legal opinion of the classical fiqh school which is relevant to developmental conditions and needs of modern society. However, in article 40, the author considers that there is a selection of legal opinions from the jurisprudence schools that do not allow to sell or replace waqf objects which will cause problems in their application. This is because the waqf object in certain conditions can suffer damage and loss of benefit. Therefore, the legal construction in article 40 can be reconsidered.
Downloads
Download data is not yet available.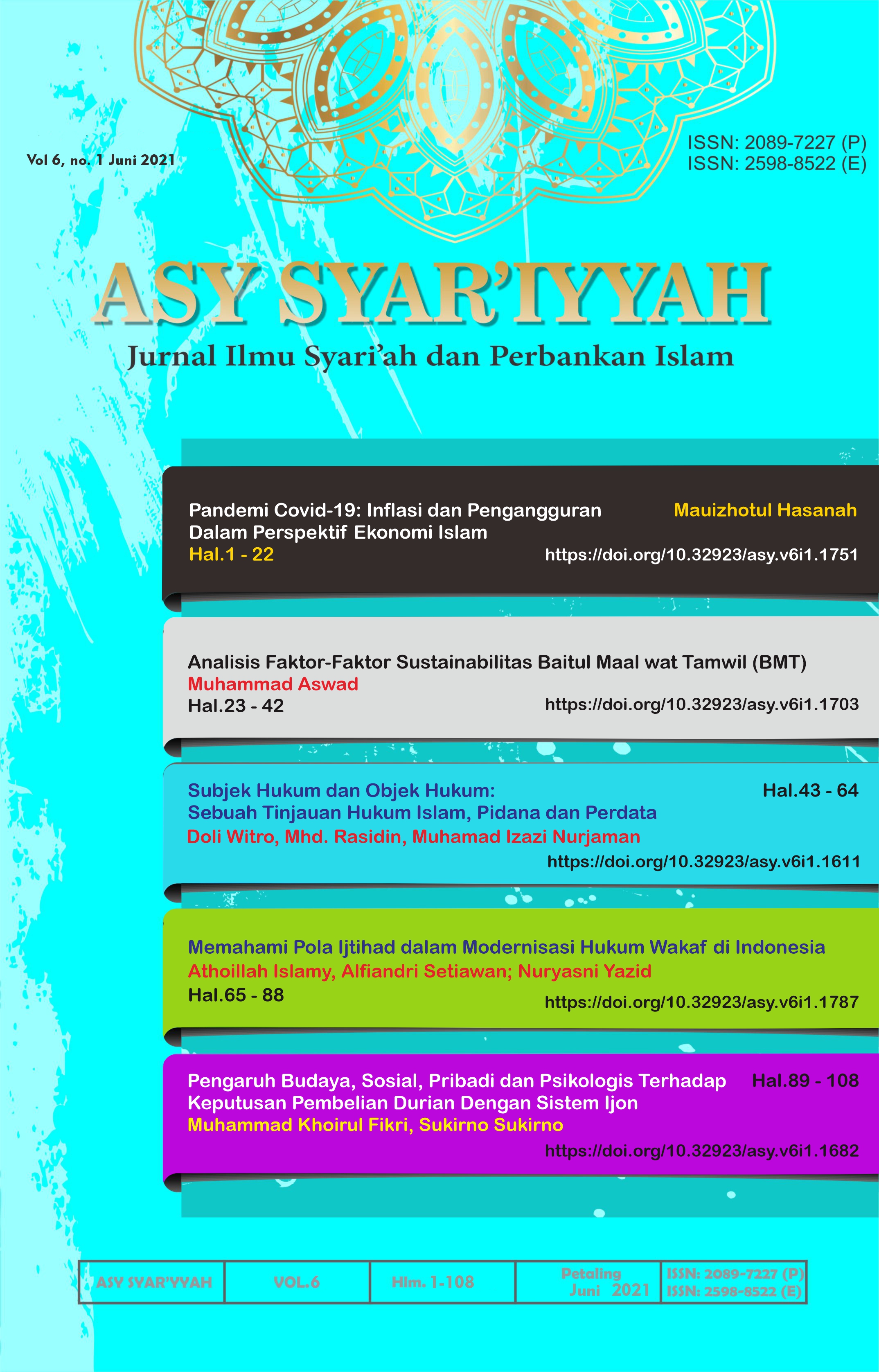 How to Cite
Islamy, A., Setiawan, A., & Yazid, N. (2021). Memahami Pola Ijtihad dalam Modernisasi Hukum Wakaf di Indonesia. ASY SYAR'IYYAH: JURNAL ILMU SYARI'AH DAN PERBANKAN ISLAM, 6(1), 65-88. https://doi.org/10.32923/asy.v6i1.1787