Subjek Hukum dan Objek Hukum: Sebuah Tinjauan Hukum Islam, Pidana dan Perdata
Doli Witro

UIN Sunan Gunung Djati Bandung

Mhd. Rasidin

Institut Agama Islam Negeri Kerinci

Muhamad Izazi Nurjaman

UIN Sunan Gunung Djati Bandung
Keywords:
Mahkum Alaih, Mahkum Fih, Ushul Fikih
Abstract
When discussing syara' law, it is always bound by four things, namely al-Hakim, law, mahkumalaih, and mahkumfih. In various legal studies, there are various views in determining that a person can be subject to law, or in other words, capable of law. In essence, everyone is a good bearer, that is, someone who has rights and obligations. Rights bearers are also known as legal subjects. The term legal subject in the discipline of Islamic law is mentioned as mahkumalaih. If there is a legal subject, it will always go hand in hand with a legal object. In the discipline of Islamic law, the object of the law is also called mahkumfih. This article aims to discuss mahkumalaih and mahkumfih in the discipline of Islamic law. The study uses a qualitative approach that is a literature review. The materials for this article were obtained from books, journals, and internet websites related, namely mahkumalaih, and mahkumfih. The data analysis techniques used were data presentation, data reduction, and conclusion drawing. The findings showed that mahkumfih is a legal object or is interpreted as an act of mukallaf based on Allah and the Prophet's command. In the discussion of legal objects, it cannot be separated from the legal subject. In ushulfiqh the subject of law is called mahkumalaih.
Downloads
Download data is not yet available.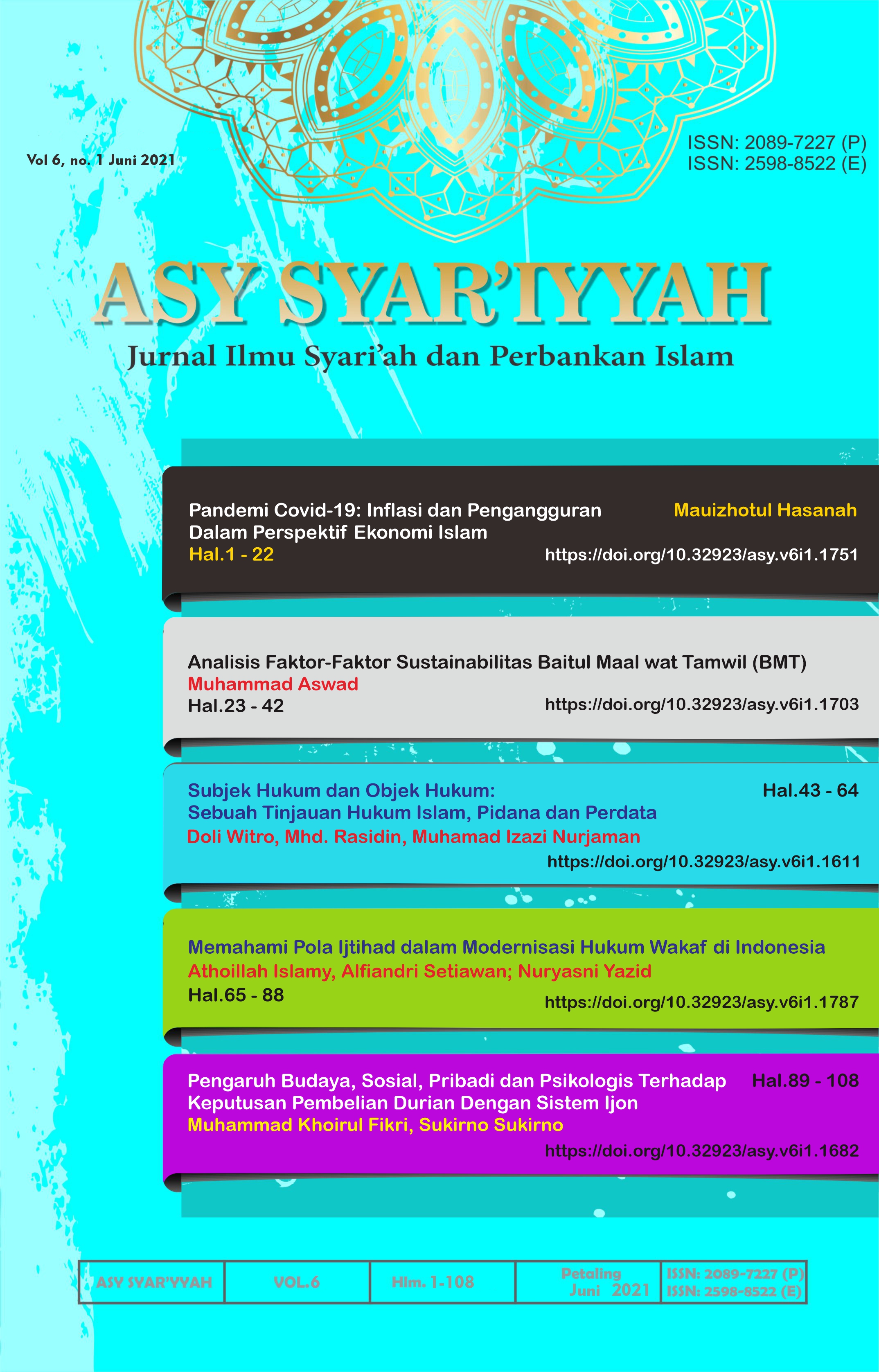 How to Cite
Witro, D., Rasidin, M., & Nurjaman, M. (2021). Subjek Hukum dan Objek Hukum: Sebuah Tinjauan Hukum Islam, Pidana dan Perdata. ASY SYAR'IYYAH: JURNAL ILMU SYARI'AH DAN PERBANKAN ISLAM, 6(1), 43-64. https://doi.org/10.32923/asy.v6i1.1611